11 Best French Romantic Movies You'll Love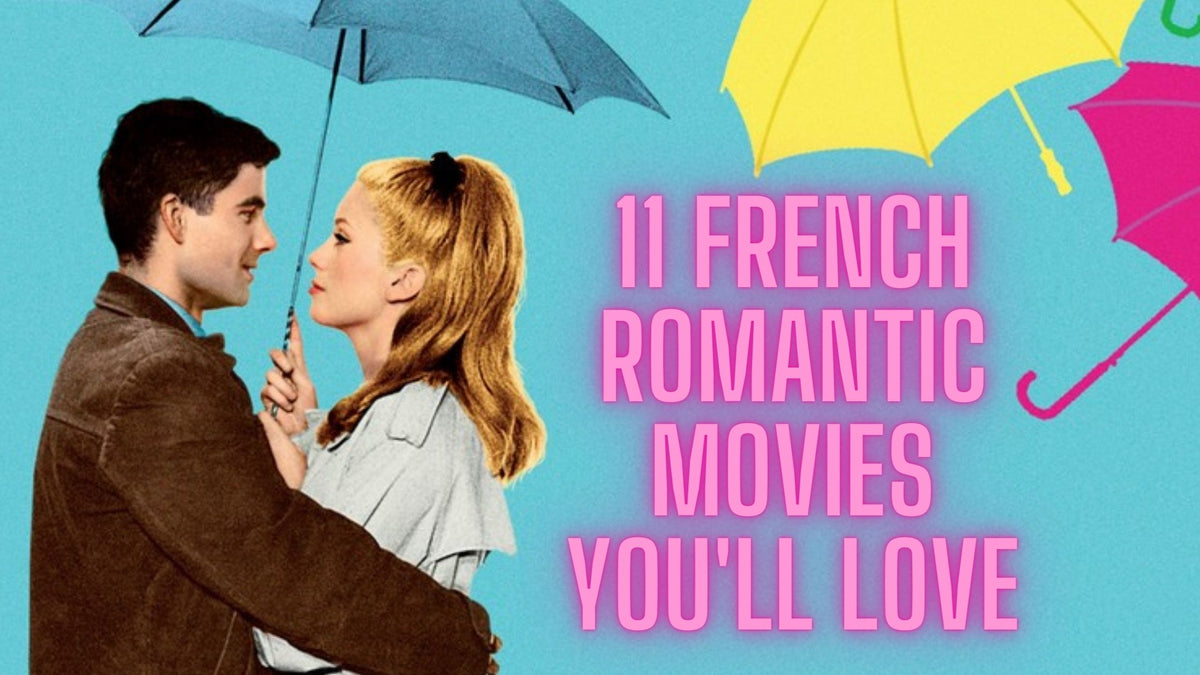 Few countries do romance better than France. To prove it, we've picked out 11 of the best French romantic movies from the land of amour.
Funny, tear-jerking, thoughtful, surreal — whatever you're in the mood for, if you love French movies then we've got something for you.
1. La Fille sur le Pont / The Girl on the Bridge
French romantic movies mostly fall into two categories. Effervescent rom-coms, or heartbreaking dramas that dissect the human condition. La fille sur le pont is a bit of both. 
French acting legend Daniel Auteuil is a circus knife-thrower He enlists the titular girl on the bridge — Joe le Taxi chanteuse Vanessa Paradis — to be his sidekick and potential pincushion.
Artistically shot in black and white with a mood-enhancing musical score, La fille sur le pont stands out from most French romantic movies
Don't expect anything too deep, but if you love French movies with quirky style and humor, this could be your Saturday night movie.
IMDb rating 7.5 | Rotten Tomatoes score 88%
2. Un Long Dimanche de Fiançailles / A Very Long Engagement
An uplifting tale of love and devotion sees Mathilde (Audrey Tatou, of Amélie fame) searching for her fiancé, sentenced to an unimaginable fate by his military superiors.
Okay, the premise is bleak — the fate of deserters during World War I. But that doesn't prevent this from being among the most uplifting of French romantic movies, filled with heartfelt performances from leading French actors (and even a French-speaking Jodie Foster).
A real tear-jerker. Not really a first-date movie, but a must-watch if you love French movies.
IMDb rating 7.6 | Rotten Tomatoes score 78%
3. Cyrano de Bergerac
No list of French romantic movies would be complete without a box office smash. And Cyrano de Bergerac is a bona fide classic.
Loosely based on the romantic travails of the eponymous hero, this version of the beloved play has never been bettered on the big screen. Not even by Steve Martin's Roxanne.
The 17th-century story is an epic, poetic tale of love, tragedy, and missed opportunity. And a magnificent nose. Gérard Depardieu fits the loveable rogue's boots perfectly.
Pocketing numerous awards and Oscar nominations, Cyrano de Bergerac remains one of the best-known French romantic movies.
IMDb rating 7.5 | Rotten Tomatoes score 100%
4. Les Parapluies de Cherbourg / The Umbrellas of Cherbourg
Number 4 on our list is an offbeat film cherished by those who love French movies. Les Parapluies de Cherbourg is a musical, with zero spoken dialogue.
That could be a recipe for serious cringe. Yet 14 years before Grease got people dancing in theaters, the captivating musical score and colorful sets cast a spell over global audiences.
There is a plot buried somewhere within the catchy musical numbers. Subtitles are recommended. But even if you fail to understand a word, the show is a technicolor musical feast from start to finish.
The perfect movie to banish rainy day blues.
IMDb rating 7.8 | Rotten Tomatoes score 99%
5. Les Amants du Pont-Neuf / The Lovers on the Bridge
Yep, this is another of those French romantic movies starring a bridge. Love stories are made for bridges. Ideally silhouetted against moonlit skies in Paris.  
Strip away the dreamy Parisian setting though and this is a dark, gritty tale of love.
Les amants du Pont-Neuf paints a rare view of Paris, homeless life on the streets. With Juliette Binoche delivering a memorable performance and a soundtrack from David Bowie, this is one of the most poignant, yet cool, French romantic movies.  
If you love French movies but hate feel-good frothiness, this movie is for you. 
IMDb rating 7.6 | Rotten Tomatoes score 85%
6. César et Rosalie
In popular image, France is a place where dangerous liaisons are never far away.
The view might be outdated, but César et Rosalie was filmed in 1972 and depicts a fraught love triangle that leans into the stereotype. 
The plot doesn't play out as you might expect. In fact, it is not really a movie about César and Rosalie. Instead, it puts a gentle spin on a timeless question. Do you choose the one who loves you? Or the one you love?
Light on substance yet oddly endearing.
IMDb rating 7.4 | Rotten Tomatoes score 100%
7. Jeux d'enfants / Love Me If You Dare
If you like French romantic movies with big laughs, Jeux d'enfants is worth a look.   
Translated as 'Child's games', the film taps into a familiar romantic trope — childhood friends growing old and falling in love.
There is a twist. These clueless romantics play an ever-escalating game of dare and double-dare to test their love. Needless to say, this is an unhealthy way to grow a relationship. But it is very entertaining.
A not-so-subtle allusion to Peter Pan, there are enough twists and turns to keep viewers guessing until the end.
The real question is, do they deserve a happy ending?
IMDb rating 7.6 | Rotten Tomatoes score 44%
8. Le Goût des Merveilles / The Sense of Wonder
Le Goût des merveilles is an understated movie that skipped past most cinema audiences upon release. But if you love French movies, you'll enjoy this uplifting love story.
It is an uncomplicated story about a lonely woman finding love with a road traffic victim. No prizes for guessing: our lonely protagonist was driving the car.
Romantic cliches aside, Le Goût des merveilles is a tightly written and seductively shot movie.
Sit back, grab the tissues, and drink in gorgeous scenery from the hilly Drôme countryside while enjoying one of the more sympathetic French romantic movies.
IMDb rating 6.8 | Rotten Tomatoes score 67%
9. Un Homme et une Femme / A Man and a Woman
No surprise. This is a story about a man and woman.
More than that, it is an artistically directed, considered character study. In short, the archetypal French movie.
Never overstated, the occasional black and white scenes — reportedly filmed to reduce costs — add to the gentle mood music.
Un homme et une femme charmed global viewers upon release in 1966, scooping two Oscars alongside the Palme d'Or. It is still winning fans today.
IMDb rating 7.6 | Rotten Tomatoes score 75%
10. Populaire
Populaire is the newest film on our list, albeit telling a quirky tale of love in 1958. 
A whimsical premise — a boss falls in love with a woman he is coaching to become an international success in the world of speed-typing — may sound démodé. But the main story is one that never grows old: shared obsessions revealing a shared passion for each other.
If you are unsure about French movies, Populaire is the perfect introduction: funny, upbeat, nostalgic. One of those rare French romantic movies suitable for a first date.
IMDb rating 6.9 | Rotten Tomatoes score 73%
11. Jules et Jim
Jules et Jim should be on any list of great French romantic movies. It is a true chef-d'oeuvre of French cinema.
Like César et Rosalie, there is a third wheel excluded from the film's title: the object of affection, Catherine. The First World War is the backdrop, yet the cross-border relationships are inimitably gallic — carefree and casual.
A shattering conclusion awaits viewers, but there is plenty of romance and happy times along the way.
Jules et Jim is one of the leading French New Wave films. Cinephiles still discuss the merits of Jules et Jim, confirming this as one of the greatest French romantic movies ever made.
If you love French movies, it is a must-see.
IMDb rating 7.8 | Rotten Tomatoes score 93%