5 Reasons to Buy Organic Cotton Clothing Instead of GMO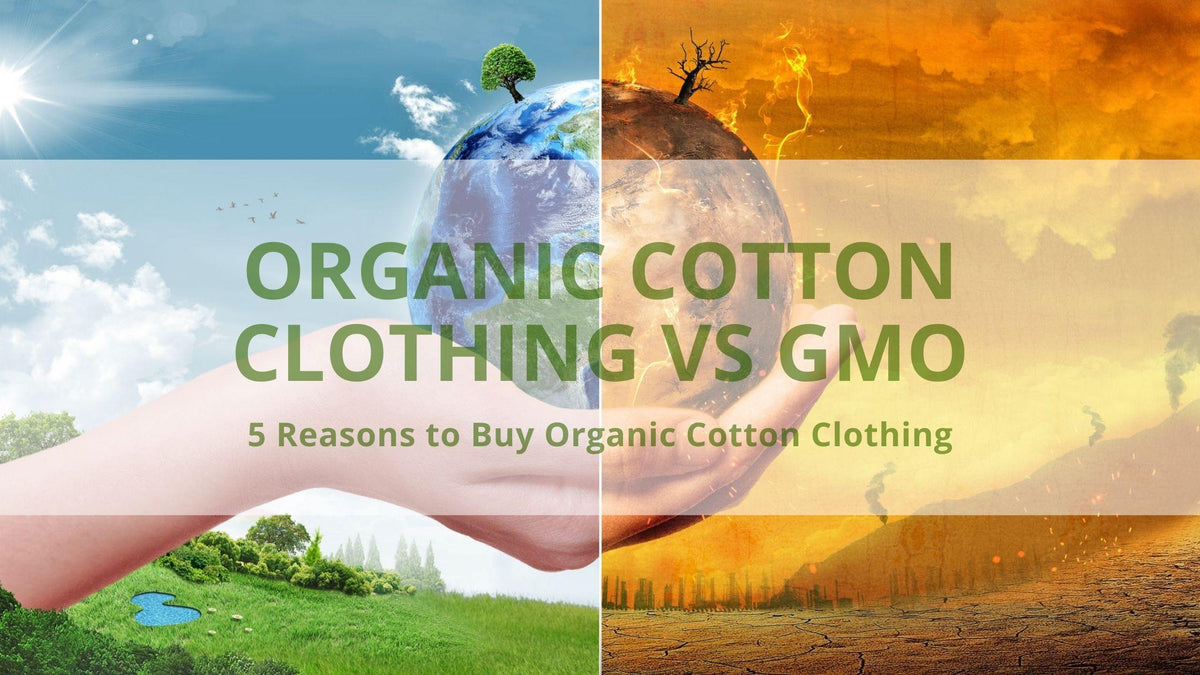 Take a quick look through your closet. How many of your cotton clothes are organic? Now, how many are made in the USA? 70 percent of the cotton produced in the USA is GMO, but we're willing to bet that 100% of the cotton in your closet is neither home-grown or organic. We're here to change that!
We care about what we put into our bodies when it comes to food and medicine. We care about what we put onto our skin in terms of makeup and skincare. But, for some reason, what we put onto our bodies in terms of clothing seems to be commonly overlooked. Start checking those labels, folks! Here are five solid reasons to fill your closet with organic clothing.
1. Your Clothing Will Last Longer
Chemicals used in regular cotton can weaken the fibers, causing them to not last as long. Fast fashion might be cheap, but when you have to constantly replace it, you end up spending more money than if you had just purchased better quality (and organic) to begin with. Organic cotton also tends to be softer, so it's a win-win.
2. Organic Cotton is Better for Your Body
When harmful chemicals aren't used to treat the clothing, then they aren't there to rub off on or get absorbed into your skin. People with sensitive skin already have to buy chemical-free laundry detergent, but why not start with chemical-free clothing?
3. Your Purchase Will Contribute to a Farmer's Living Wage
The main reason why people are hesitant to start buying organic clothing is due to cost — it's more expensive than regular clothing. However, most organic cotton is also considered fair trade, which is a movement emphasizing in paying farmers a living wage. There are 300 million people working in the cotton industry all over the world — that's a lot of people working in dangerous conditions for next to nothing. You can purchase organic cotton knowing that you, and a hard working farmer, are both benefiting.
4. Organic Cotton is Better for the Planet
This one's a no-brainer. No harmful pesticides and chemicals used on the crops means the surrounding soil and water isn't contaminated. Less water usage in production means less water waste. Organic production methods for both cotton and food is known for emitting less greenhouse gases, which means less CO2 released into the air.
5. It's Better for Your Mental Health
Not only is organic clothing better for your body, but knowing that your purchase helps to benefit yourself, industry workers, and the planet will give you peace of mind. There is so much pressure to care about the future of the planet and to actively fight global warming (and rightfully so), but we understand that it can be a lot to mentally deal with. Feel good about your clothing purchases — buy organic cotton!
Big Frenchies is a clothing brand that puts the environment first and that's why all of our products are made of 100% organic cotton in the USA, in GOTS-certified (Global Organic Textile Standard) workplaces with no child labor.
Make sure to check out our must-know facts about Fast Fashion and Sustainable Fashion Facts!