21 Must-Know Sustainable Fashion Facts & Statistics of 2022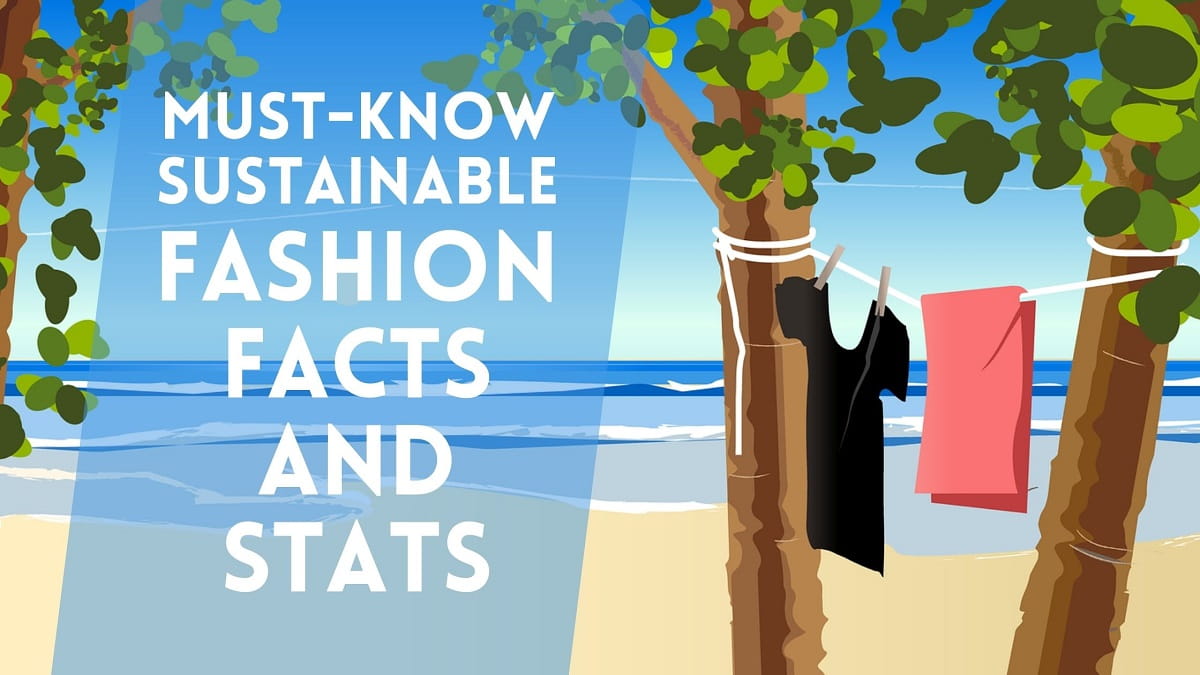 Sustainability in fashion is not a buzzword designed to part consumers from the contents of their wallets. As this list of sustainable fashion facts show, the clothing industry has a vital role to play in building a greener and kinder planet.
We've pulled together 21 of the most eye-opening sustainable fashion statistics that paint a picture of an industry that urgently needs to make improvements. Along the way, we gather up some sustainable fashion facts that show how change is slowly happening.  
Sustainable fashion industry statistics that speak for the industry in 2022
The next handful of recent sustainable fashion statistics deliver a telling insight into the fashion market today.


1. The value of the ethical clothing segment is forecast to be worth USD 8.3 Billion by 2025
It may be a drop in the ocean of a total fashion industry valued at USD 1.5 trillion, but sustainable fashion is a growing market. Valued at USD 5.84 billion in 2012 by Research and Markets, the sustainable clothing sector is projected to grow 9% annually in the next few years.


2. The rise of 'snap and send'
One of the sustainable fashion facts that says we are definitely in 2022 is the rise of 'snap and send'. 
According to the British credit card operator, Barclaycard, 9% of all clothes purchased by British shoppers are worn once, allegedly to pad out Instagram feeds.
The research also highlights how casually clothes are purchased. Around 15% of men (11% of women) wear clothing with tags, just in case it doesn't wow observers and they want to return it.
It is unclear if a credit card company is entirely blameless for this wasteful attitude…


3. Clothing companies destroy huge amounts of unused stock
Here's the thing, all that returned fashion creates another wasteful problem. Underscoring a need for wholesale change, many businesses are guilty of destroying unsold and returned stock. 
One fashion commentator claims that clothing manufacturers destroy around 30% of their unsold stock every year to stop people from getting their hands on it cheaply. A similar amount is reportedly sold at discount prices by retailers.
Here are a few examples of how that plays out in the real world:


Burberry destroyed £90 million of clothing over 5 years, including £28.6 million in 2017. The hashtag #Burnberry quickly trended, with many observers noting how Burberry had recently signed up to the 'Make Fashion Circular' scheme. The hashtag was surprisingly effective, Burberry stopped incinerating unsold clothes shortly after
H&M was also in the habit of burning excess stock. Nowadays, the company aims to shift unsold clothing at discount prices. Yet they still produce far more than they sell. In 2018 the brand reportedly sat on USD 3 billion of unsold stock
Nike got in hot water for literally slashing unsellable stock to render the footwear


4. The used-clothing trade is a multi-billion dollar industry
Selling used clothing seems like a ready-made solution to over-stocking. After all, secondhand garments are a rapidly-growing sector of the fashion industry
Research from Thredup — a secondhand clothing marketplace — showed how used clothing has grown from a 4% share of the fashion market in 2010 to 9% in 2020. This is projected to double by 2030, to 18%.
In 2020, just the top 10 countries exporting used clothing shared a trade worth nearly 3 billion USD.


5. Used clothing triggered an international trade dispute
A trade dispute between USA and Rwanda illustrates the powerful reach of fashion.
With mixed results, Rwanda banned the import of used clothing in a bid to shore up local manufacturing. Initially they joined by other members of the East African Community (EAC). But, under threat of expulsion from the free trade agreement, Africa Growth and Opportunity Act (AGOA), every nation but Rwanda withdrew.
Rwanda remains barred from AGOA in 2022. And while local garment businesses have grown from 10 to 70, the cost of clothing has risen in Rwanda, hurting the pockets of poorer citizens. 


6. More European fashion retailers are switching to sustainable cotton usage
Sustainable fashion industry statistics can be unreliable, so it is welcome news when companies post data about organic cotton use.
10 big European fashion enterprises were rated for their organic cotton usage, measured by uptake, traceability, and company policy.
Four European retailers scored above 50/100 and are described as 'leading the way' in using sustainable cotton. A further 3 were rated 'well on the way'.


7. 80% circularity in the fashion industry by 2030 is an achievable goal
Despite some ups and downs in our first 6 sustainable fashion statistics, there is cause for optimism.  
According to Global Fashion Agenda (GFA), a whopping 80% circularity is achievable. Circularity is the supreme goal of many sustainable fashion advocates.
This bold and ambitious claim is based on international competitors working together on textile recycling in the earliest production stages.
There is a sizeable catch. By the time of publishing, just 12.5% of global clothing manufacturers and retailers had signed by to GFA's commitment to creating a more circular fashion industry.  Reassuringly, that figure includes some big brands like Nike and Asos.
Consumer demand is powering change in the fashion industry
8. 52% of shoppers want more sustainability in fashion
Although not exclusive to clothing, increasing numbers are willing to pay for more sustainable purchases. Most consumers were happy to pay on average 25% higher prices for more sustainable products.
A separate survey concluded that over 50% of buyers want more sustainable clothing, with 29% willing to pay a premium.


9. Online interest in sustainable clothing fashion reached a peak in 2020
Google Trends is a fun tool hiding some seriously useful data, including one of the most telling sustainable fashion facts — interest in the ethical clothing has trended consistently upwards since records began, reaching a peak in 2020.


10. Gen Z is leading the way
Other research proves that interest Gen Z are at the vanguard of change.  
An additional 2% of the US population said they considered sustainability when buying clothes in 2021. The figure shoots up to 9% for Gen Z.
Perhaps not unrelated, a growing number of Gen Z claimed they were less interested in buying designer brands or keeping up with trends (down 12% and 24% respectively amongst Gen Z.)


11. Just 47% of clothing brands share data about their manufacturing sights
A desire for improved insight into how fashion is manufactured may be on the up, but many customers are still blocked from getting reliable sustainable fashion facts.  
That's why Fashion Revolution created the Fashion Transparency Index, to push for more meaningful fashion industry statistics.
The latest report (2021) illustrates just how much work is required. The fashion industry scored a limp 23% overall for transparency. With a few positive outliers like H&M (68%), Timberland, and The North Face (66%), a startling number of big brands also scored zero.
Innovation is shaping the future of sustainable textiles
12. Sustainable shopping apps are getting smarter
Where there's a problem, there's a tech solution. The launch of several apps is making it easier for shoppers to find more sustainable clothing.
Good on you kicked things off with a directory rating clothing brands for sustainability.
More recently, a French start-up, Clear Fashion, built an app for checking the ethical credentials of clothing items by simply taking a photo of the tags.
Alongside apps delivering better sustainable fashion facts are a bunch of new thrift, vintage, and secondhand clothing reseller sites, like ThredUp and Depop.


13. Clothing rentals are moving the needle on attitudes to reusing clothing
Touted as a means to extend the lifespan of clothing — long seen as a solution to CO2 emissions in fashion — rental clothing is growing in 2022. Well-financed startups like Rent the Runway and Rent my Wardrobe are showing how behavioral changes can make clothing more sustainable.


14. Next-gen and bio-based materials are shifting attitudes
Bio-based materials are at the cutting edge of tech innovation.
At the 'Premiere Vision Paris', a sustainable fashion fair in 2022, there was a diverse range of clothing on display made from materials such as banana skins and fish scales. 
Meanwhile, even coffee waste is being recycled into clothing. Straight from the espresso machine to the catwalk.
According to one of the more revealing fast fashion statistics, nearly 40% of all seed money for next-generation material startups was received in 2020.


15. Recycling plastic into wearable fibers is a growing industry
Pioneering tools are helping transform plastic into fibers. Soft, comfortable fibers, if you're wondering.
One company, REPREVE, claims to have recycled over 25 billion plastic bottles into fibers that were then used to manufacture everything from socks to sportswear.
While Adidas has worked with a marine conservation charity to turn plastic waste into millions of sneakers.
The potential is there to do the same with plastic bags, according to research from the Massachusetts Institute of Technology (MIT). As Dr Svetlana Boriskina puts it:
"There's no reason why the simple plastic bag cannot be made into fiber and used as a high-end garment".


16. A new textile dyeing technique is way more eco-friendly
With around 20% of global water pollution created by the fashion industry, there has been a longstanding imperative to find ecologically sound ways to color clothing.
That ambition was realized in 2021 when Ralph Lauren revealed 'Color on Demand', which they describe as a dying platform that will "deliver the world's first scalable zero wastewater cotton dyeing system."
Governments are stepping in to restrict the excesses of fast fashion
All the sustainable fashion facts in the world can't convince everybody to move to better models of working. For this reason, the environmental fallout from fast fashion has quickly moved up the world's political agenda.


17. A Fashion Pact was presented to the G7 in 2019
Heralding the shift in political attitudes, 150 clothing brands across 32 companies have signed up to implement better environmental practices in the Fashion Pact presented to the G7.  
Spearheaded by François-Henri Pinault, CEO of luxury brand Kering, and championed by the French President Emmanuel Macron the initiative seeks to improve fashion's impact on global warming, biodiversity, and ocean pollution.


18. France has banned the destruction of unsold clothes
Our friends in France have been busy building a more sustainable fashion model.
Home to some of the biggest luxury fashion brands in the world, the French AGEC law (Anti Gaspillage pour une Économie Circulaire, or Anti-waste for a circular economy) forbids clothing suppliers from disposing of unsold clothing. It also promotes reuse, waste reduction, and greater transparency.


19. New York's Fashion Act is also leading the way for sustainable fashion
At the time of the writing, this proposal from New York legislators was still moving towards ratification. But whether successful or not, the legal step is groundbreaking.
The Bill —Fashion Sustainability and Social Accountability Act — requires large fashion companies ($100 million + revenues) operating in New York state to publish social and environmental impact data.
Adding substance to New York's progress, New York City is betting big on sustainable fashion. A 'Made in NY' campus will open in 2022, creating a massive hub for designers to work, pool resources, share ideas, and find ways to create sustainable clothing made in New York.
Considering 97% of all clothing is imported, a rise from 5% in the 1960s, perhaps a little government intervention will create real impetus.


20. The European Union is pushing a sustainable fashion agenda
Taking on our 'take-make-use-dispose' culture, some planetary-sized environmental commitments were adopted by the EU in 2021.
The aim: to create 'a carbon-neutral, environmentally sustainable, toxic-free and fully circular economy…by 2050 at the latest.
The EU is also targeting 'greenwashing', the dubious ecological claims made by clothing manufacturers.
First identified in the 1980s, greenwashing remains a persistent problem in 2022. According to the International Consumer Protection and Enforcement Network, 40% of green claims made across all industries are false.
The 2020 legislation 'EU taxonomy for sustainable activities' aims to provide transparent sustainable fashion statistics for better-targeted investing.  It is a key plank of the ambitious EU 'Green Deal'.
Worried about greenwashing? Choose clothing companies with sustainable credentials verified by external bodies. At Big Frenchies, we use Global Organic Textile Standards (GOTS) to certify our cotton is 100% organic, sourced sustainably, and does not exploit workers.


21. UN Fashion Industry Charter for Climate Action signals a global response
Last but certainly not least, 2021 saw the culmination of work begun in 2018 to define how the fashion industry will contribute to the program, United Nations Climate Change.
Originally drafted during the Paris Agreement of 2015, signatories to the United Nations Framework Convention on Climate Change have drawn up plans to target every facet of unsustainable fashion. The overarching aim is to bring fashion's greenhouse emissions to zero by 2050.
With some of the biggest markets, political organizations, and businesses already signed up, there are clear signs that influential forces are aligning on the need to make clothing more sustainable.  
Conclusion
As this hefty list of sustainable fashion facts demonstrates, it has never been more in vogue to purchase sustainable clothing.
We're totally on board with this change at Big Frenchies. We only use 100% organic cotton, certified by Global Organic Textile Standards (GOTS). That means our t-shirts are made with 50% less water, 50% less energy, and 46% less CO2 generation. Our certification also ensures that the workers bringing our designs to life are treated fairly.
While we're doing our bit, you can see from our list our sustainable fashion statistics that a greener future for fashion is possible. There may be a long way to go.
Just check out our '40 Shocking Facts and Statistics About Fast Fashion' post if you need evidence.
But hopefully, the most recent fast fashion industry statistics demonstrate a pattern of progress that we can all applaud.